The Flowpack packaging method results in soft modified atmosphere packaging.
A Flowpack machine makes a bag from one film roll. During the filling phase, the air is flushed out of the package with a modified atmosphere, after which the bag is closed with two end seals.
Marking and labelling are usually done directly on the film before the package is constructed. An accessory enables different resealable solutions.
---
Horizontal models
The horizontal forming and sealing machine is designed to wrap pillow-shaped product packaging and the most common commercial packaging types. A Flowpack can package almost anything: small or large food products, medical products and non-food products. A Flowpack package allows for impressive 'all-round' printing.
Even the most demanding packaging duties are completed successfully with Fuji's sealing technology. An example of this is making hanging holes for heavy products or packaging with recyclable PP-mono-material, which saves 70% of the packaging material. Product feed devices are tailored to your needs for manual, semi-automatic or fully automatic feed-in.
---
Vertical models
LEAF is a forming, filling and sealing machine for the production of paper bags directly from the paper roll. The standard configuration enables the production of both pillow and stand-up bags. The machine is suitable for packaging a wide range of food and non-food products.
Velteko's production program covers a wide range of vertical packaging machines, from small to big capacity machines with all types of vertical packaging styles, normal pillow bag, standing bag, Doypack and different reclosing solutions etc.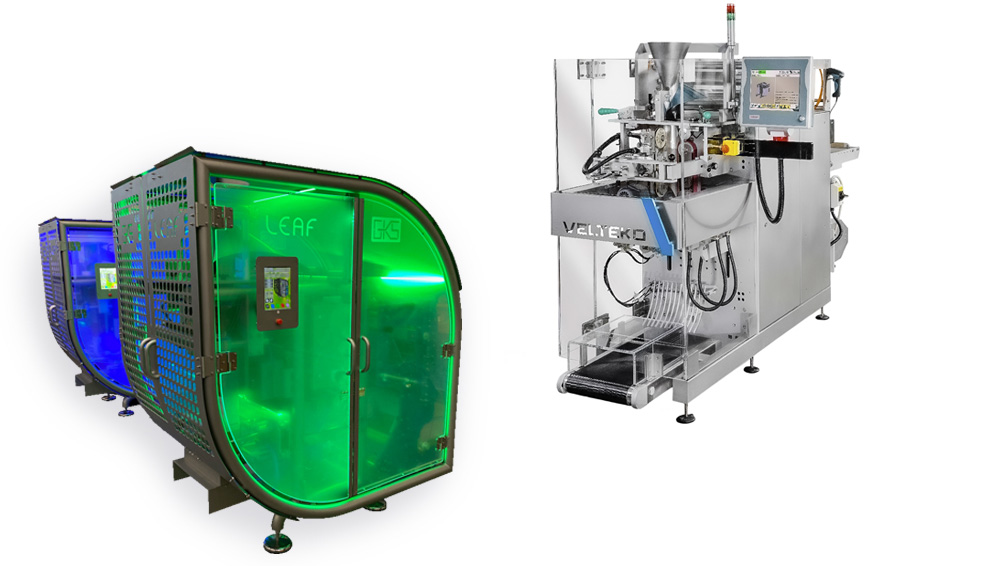 LEAF is developed specifically for manufacturing paper bags from 100% recyclable and compostable paper-mono-material. The machine is equipped with a special design kit for paper and an in-line net applicator that allows the manufacturing of bags with a net-covered window. The range of package sizes is wide (bag width 190–400 mm) and pack capacity is up to 35 bags per minute.
The machine is made of stainless steel and other recyclable materials such as sea plastics.
The machine consists of modules that can be replaced in minutes, reducing downtime and costs during maintenance work. Accessories and additional components can be installed easily and quickly afterwards. The machine is also very easy to clean and service.
Velteko delivers versatile packaging solutions that are tailor-made to your individual needs.
The durability and reliability of Velteko machines deliver the value you need for the long-term. The combination of versatility, high speed and efficient operation make Velteko machines your viable solution and safe investment.